11/2/23 Career Connections Newsletter
Posted on: November 2, 2023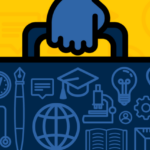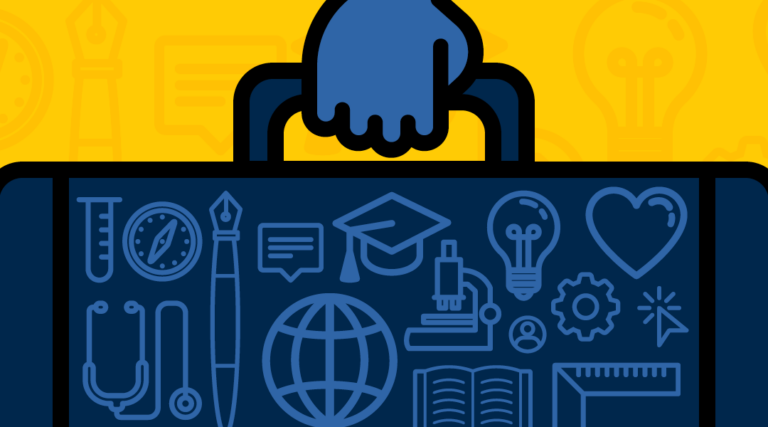 Franklin High School Career Connections
Every other Thursday, Franklin's Career-Connected Learning Coordinator Mr. Ruiz will post upcoming college and career related events, important application deadlines, career training program opportunities, jobs, internships, service learning options, and other career-connected topics of interest to students and their families. Emaildpruiz@seattleschools.org if you have anything you want placed in the newsletter.
Jobs and Internships
Dave's Hot Chicken in Capitol Hill expanding, has urgent need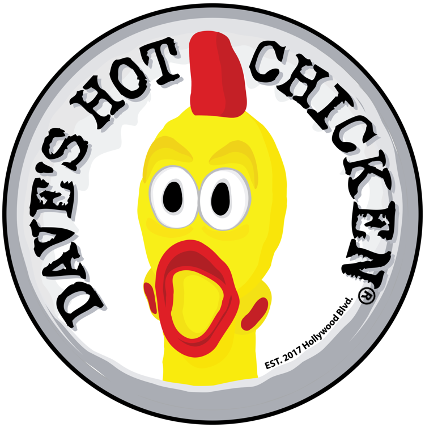 Dave's Hot Chicken is a rapidly expanding new concept serving Nashville Style Hot Chicken in Seattle's Capitol Hill. They are currently seeking crew members for guest services, food prep, and site maintenance. The pay is $20-24 per hour, and there are evening and weekend shifts available. Apply to work at Dave's Hot Chicken.
Check out this custom Indeed.com search query to find local jobs hiring teens

For more jobs like the one above, we have created a Indeed that limits jobs to a 5 mile distance from Franklin High School and is available for or catered to teens in high school. See local jobs that you qualify for, and apply today. Jobs currently available include: ride-along UPS driver helper, grocery shopper, holiday/seasonal retail associate, movie theater team member, cashier, and after-school kids program assistant.
Stay updated on all things internships on the District's Regional Internships website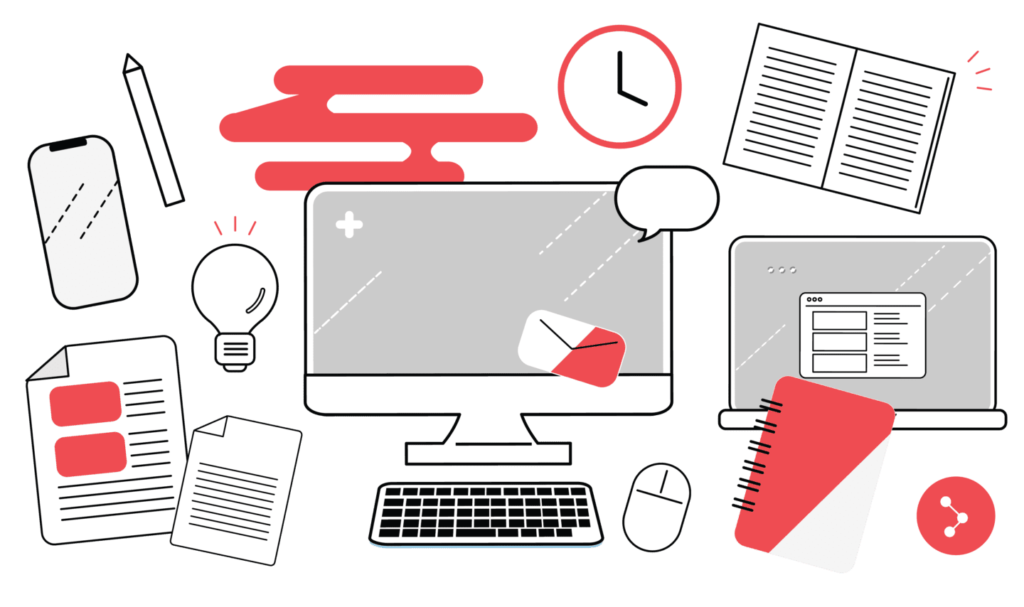 Seattle Public Schools' Career and Technical Education (CTE) department maintains an active directory of internships and other career-focused training programs that is updated throughout the year. The programs currently seeking students – and have open applications – are listed at the top. Programs that may not be accepting students now – but will in the future – are listed by CTE pathway below.
This is always the best place to start when looking for opportunities, but if you do not find something you like there, make an appointment with Mr. Ruiz to explore additional opportunities that may not be listed.
---
College/Career Fairs and Scholarships
UW Women in Informatics offering College Essay Writing Workshop

As the University of Washington application deadline is approaching, UW Women in Informatics (w'info) is hosting a UW Essay Review Workshop for high school students! Students will gain tips and insights from current UW students and also have the opportunity to receive feedback on their essays. This event is entirely virtual on Zoom so it can be done from anywhere. The Zoom meeting link will be emailed to students once they sign up.
When? Wednesday, November 8th 5:00-6:30PM
Where? Virtual, on Zoom
Sign Up Workshop Student Signup Form
Black College Expo @ Rainier Beach High School Nov 4th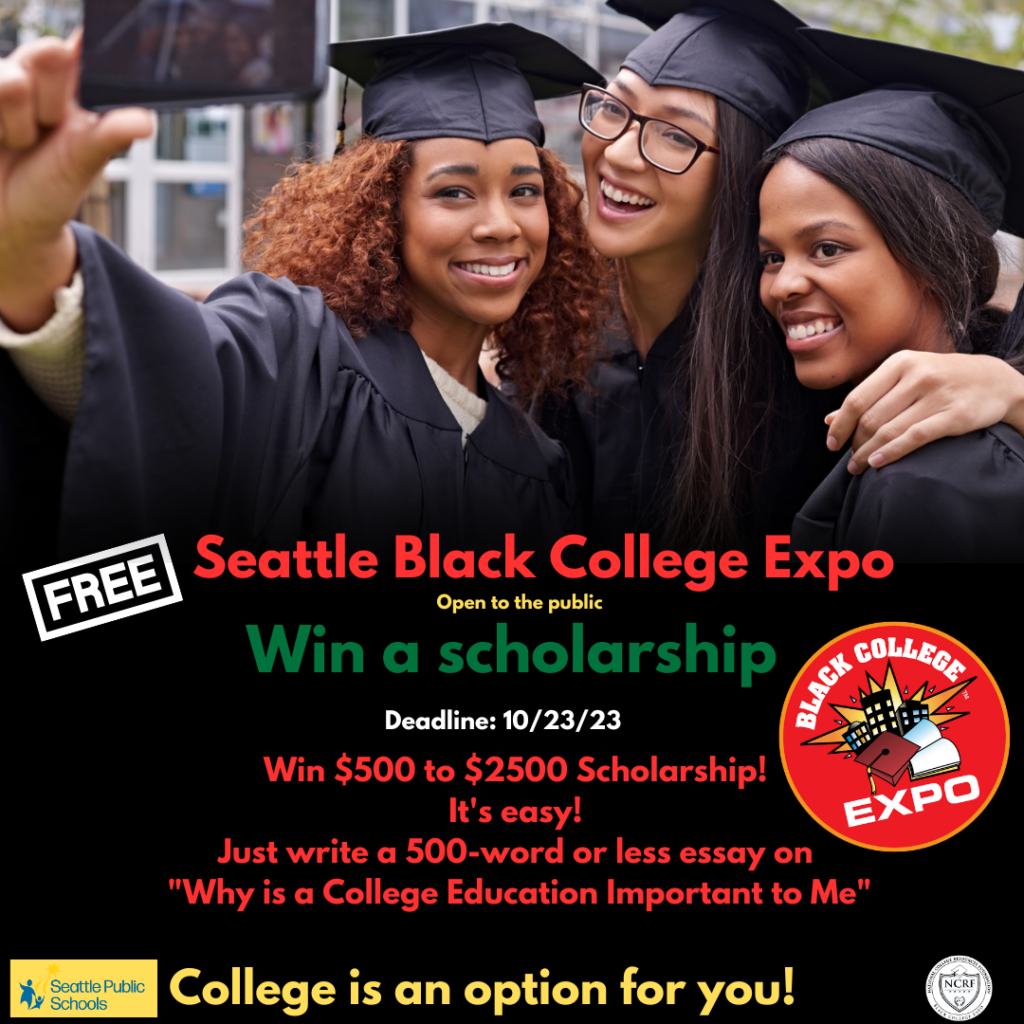 Seattle Public Schools Office of African American Male Achievement is hosting a Black College Expo at Rainier Beach High School this year on November 4th from 10am-4pm. Over 50 colleges will be represented, including several Historically Black Colleges and Universities (HBCUs), offering on-the-spot acceptances, application fee waivers, entertainment, cash prizes, and a "Dance Off" with a surprise celebrity guest!
Mark your calendars and join the fun for this event! Students should register for the Blackk College Expo at Rainier Beach by 10/23 to confirm their attendance!
To learn more about the event, check out this video featuring the 2019 Expo:
Seattle Promise (2 years Free Tuition) Application Now Open

Seattle Promise is a college tuition and success program launched by Seattle Colleges, Seattle Public Schools, and the City of Seattle. It offers free tuition at any of the Seattle Colleges: North Seattle College, Seattle Central College or South Seattle College for up to two years, 90 college credits or a student's first degree, whichever comes first.
All graduating seniors attending Seattle public high schools are eligible for the Seattle Promise program regardless of grade point average (GPA), income, ability, or country of birth. But you MUST APPLY to claim your free tuition. The application deadline is February 16.
Even if you are expecting to attend a 4-year university after high school, sometimes plans change, and you do not want to miss out on free tuition for 2 years. You cannot apply to Seattle Promise after February 16, so do it now even if it is a backup plan.
Find out more information about the Seattle Promise.
Apply for Seattle Promise NOW!
---
Training and Mentorship Programs
Applications are now open for UW School of Dentistry's Community Health Professions Academy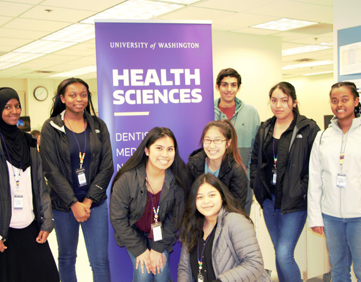 The Community Health Professions Academy (CHPA) offers a 6-session high school program designed to help high school students explore the health professions in an engaging, and supportive atmosphere. The Academy provides hands-on activities in each of following fun careers – dentistry, medicine, nursing, pharmacy, social work, and public health.
Who: All are welcome to apply. However, this program specifically promotes and encourages the participation of 9th-12th grade students who are Native American, Hispanic, Pacific Islander, or African American.
When: (6) Saturday sessions between February to May 2024.
Where: University of Washington Seattle Campus
How to apply: Complete the UW School of Dentistry Application Form by December 15. For more information, please contact the Office of Educational Partnerships at uwoepd@uw.edu.
Computing For All offers a Web and Software Development pre-Apprenticeship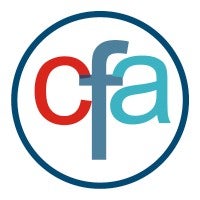 Becoming a web and software developer no longer requires a four-year university degree. Many local tech companies are now hiring young people directly into what are called apprenticeships, which allows you to get paid for working immediately and learning your trade on the job.
Computing For All is a local organization that provides pre-apprenticeship training to young people to get them ready for available apprenticeships. In this program you will: learn to code, build professional job skills, and network with employers. Their courses will prepare you to complete industry certification tests such as those offered by Microsoft and other companies. You may also earn college credit.
Program Structure:
Live, online, instructor-lead classes
Earn while you learn, qualified students can receive stipends
4 quarters per year, 6 quarters to complete
Tuesday & Thursday afternoons during Fall, Winter, and Spring; daily classes in summer
To apply, you must be at least 16, a Washington resident, and have financial need. If you meet these qualifications, complete your Computing for All application now. Applications are being accepted now for the Winter quarter beginning January 2024.
Women in Sports Careers organization seeking students to mentor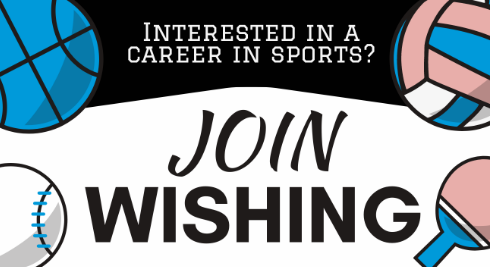 Women in Sports Helping Inspire the Next Generation (WISHING) is a nonprofit that helps girls in high school learn about careers in the sports industry. Through mentorship, job shadowing and scholarships, WISHING strives to level the playing field for all women. WISHING is a network of 200 women across the nation who work in professional/collegiate sports and serve as mentors. Students who participate in WISHING will be matched with three mentors who work in different careers in sports. Students then partake in WISHING's mentorship program from September to May and dedicate two hours per month to the program. A unique job shadow experience will be offered to students enrolled in the program each semester.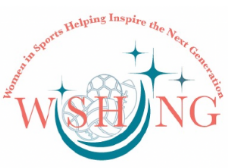 If you are female-identifying student who is interested in learning about careers in sports, please contact wishingmentors@gmail.com or connect with them @wishing_org on Twitter, TikTok, or Instagram for more information and to learn about upcoming events.
---
Service Learning and Community Programs
Seattle Youth Commission – make a difference for youth in Seattle while earning service-learning credit.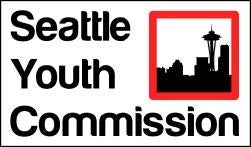 Are you passionate about social justice? Are you interested in learning more about your local city government and public service? Are you a leader in your community that wants to create positive change in the city? Then you should consider joining the Seattle Youth Commission.
The Seattle Youth Commission is a group of 15 young people who work, live or study within the City boundaries of Seattle. They are appointed by the City Council and meet twice a month to explore the issues affecting young people in the City. As members of the Youth Commission, Commissioners learn about issues affecting young people by doing research, meeting with community members and elected officials. They can advise or make recommendations regarding these issues for the City to consider.

If you are interested in joining and can meet twice a month for a 1.5 hour meeting, then you might be a great candidate for the Youth Commission. Throughout your time on the commission, you can track your hours toward your service-learning graduation requirement.
The application is open until November 5th, 2023 at 11:45 PM. Applications will be reviewed the week of November 6th and notifications of next steps will be sent by November 10th. Interviews will be held the week of November 13th. If you have any questions about this process, please contact Osbaldo Hernandez at osbaldo.hernandez@seattle.gov.
Local snowboarding program offers leadership service opportunity through "Core Program"
Service Learning Credit available – This organization will be at Franklin tabling outside of the Commons on Thursday, November 16. Stop by to learn more and to sign up to be part of the Core Program.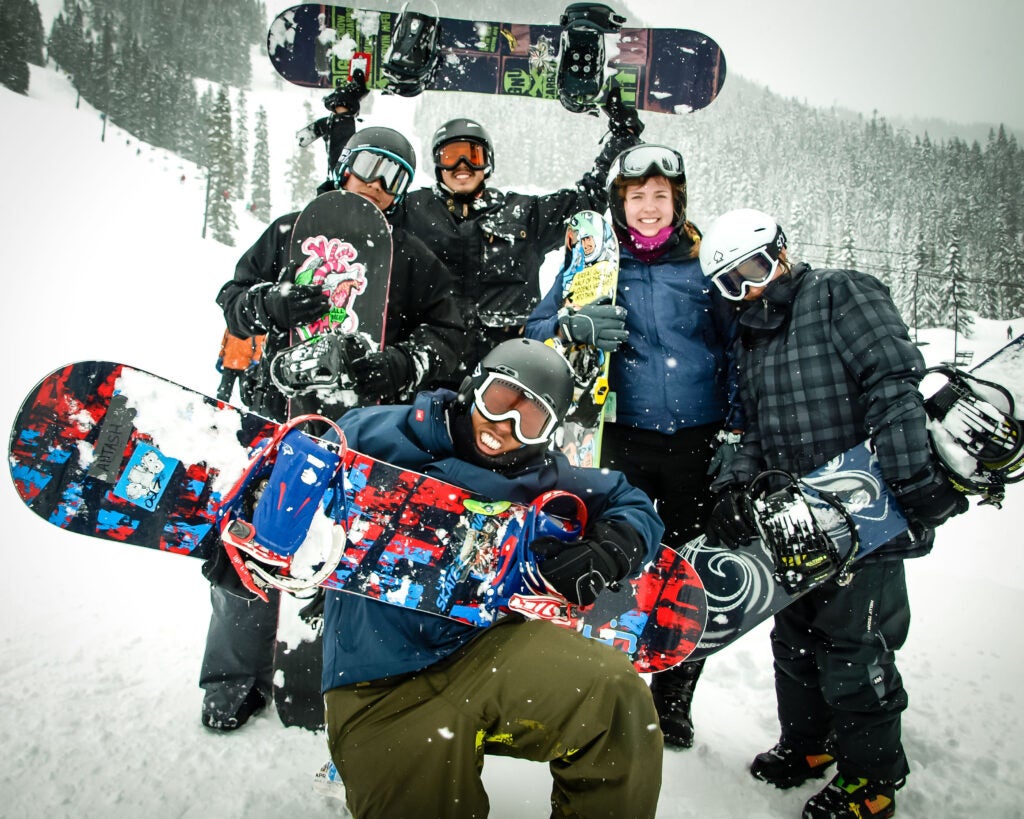 Interested in getting service-learning credit while also learning how to snowboard and going on fun outings in the snow? the Service Board brings together a group of high school students and adult mentors from a diverse range of academic, racial, cultural and economic backgrounds to engage in their Core Program. Program participants meet twice weekly from beginning of winter through spring. Weekday workshops focus on engaging discussions encompassing a broad range of social justice topics. Weekend activities during Core Program – The Service Board rotate between intensive service-learning projects and snowboarding outings.
This year's Core Program will be four months long, beginning in late January and ending in mid-May, meeting on Wednesdays and Saturdays.
Music, snowballs, fresh food and a sense of community are the common threads that tie the Core Program together. tSB emphasizes the importance of youth voice, supportive community and promoting positive risk-taking to build youth leadership skills.
If you are interested in learning more check out the Service Board website and when ready, fill out their Core Program Application. The deadline to apply is December 1.
UW's School of Social Work Offering Legacy Letters Program
Service Learning Credit available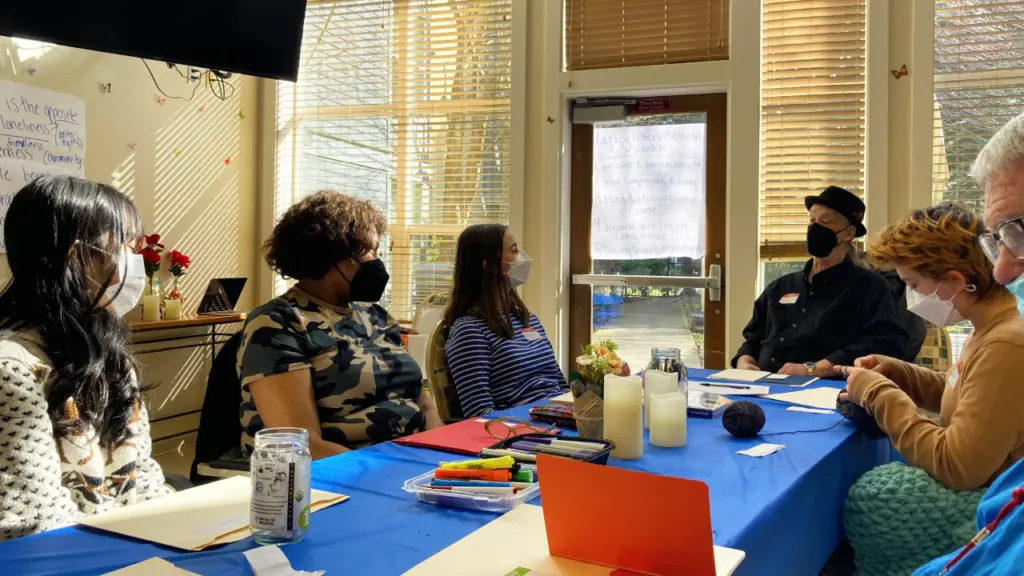 Legacy Letters is a free service-based volunteers community program that offers participants opportunities to meet, connect, and share something meaningful with people from other generations.
Legacy Letters meets once a week for 90-minute sessions. Each of the 6 sessions includes games, paired & group discussions, and reflective writing. Student volunteers work together with local elders, and the activities provide opportunities to build connections and give all participants opportunities to share something meaningful within an intergenerational community. Students can get up to 10 hours of service-learning credit for their participation in the program.
Learn more about the Goldsen Institute